PAST EVENT:
Hot Pink Paper Campaign: Women Transforming Cities
Housing Justice's Margot Young participates in the launch of the campaign to transform cities by including issues particular to women and girls in municipal campaigns.  The Housing Justice Project authored the section on women, girls, and housing in the Paper.
For a copy of the Hot Pink Paper on women and girls in municipal politics, please go to WomenTransformingCities.org.

__________________________________________________________________________________
PAST EVENT:
Housing Justice Dialogue #2
The Residential Tenancy Act: Time for an Over Haul?
May 5th, 2014 – SFU Woodwards – World Arts Centre (2nd Floor)
12-2pm – Lunch will be provided
RSVP to Maureen at: info@housingjustice.ca
With the current crisis around adequate and affordable housing in Vancouver, issues surrounding residential rental housing increase in importance. Housing is costlier, less available, and tenants more vulnerable. The Residential Tenancy Act (RTA) is a key piece of social legislation – the purpose of which must be to ensure adequate and appropriate protections for both tenants and landlords. When disputes between these parties arise, it is equally essential that the legislation be properly administered and that disputes be decided fairly and effectively.
This session is a chance to examine and discuss some of the changes proposed for the RTA by a group of social justice organizations in anticipation of the last provincial election. The recommendations are for significant changes to the statute, all with a goal of ensuring that the legislation is responsive to the vulnerabilities tenants face in a tough and expensive housing market. We will be discussing the issues raised by revision of the RTA from four perspectives: RTA coverage; procedures around initiating and terminating a tenancy; tenant protections during tenure; and, dispute resolution.
The session will provide attendees with an overview of the current legislation—what it does and doesn't provide—as well as an opportunity to engage substantively with issues of legislative reform.
Come share ideas and concerns about residential tenancies and the law.
__________________________________________________________________________________
PAST EVENT:
"The Human Right To Adequate Housing"
October 30th, 2013 – 12:30pm-1:30pm
UBC Faculty of Law – Allard Hall – Room 122
1822 East Mall – UBC
Law & Society @ UBC, SCARP and the Housing Justice Project are pleased to present Professor David Hulchanski, Professor in Social Work at the University of Toronto. David Hulchanski's scholarship focuses on local and global trends in housing, proverty and social welfare policy; human rights and social justice issues; and social and community development. His current housing research is focused on homelessness, social and rental housing problems, and the housing experience of immigrants and refugees in Toronto.  Attendance is free, all are welcome.
___________________________________________________________________________________
PAST EVENT:
"The Future of Rental Housing: Local and National Perspectives"
October 30th, 2013 – 7pm-9pm
River Market Food Hall
810 Quayside Drive – New Westminster
Keynote speaker: David Hulchanski, PHD Housing and Community Development
Panelists: Bev Grieve – Acting Director of Development Services, City of New Westminster, Mark Goodman – Realtor, HQ Real Estate Services, Thom Armstrong – Executive Director, Co-Operative Housing Federation of BC.

_________________________________________________________________________________________
PAST EVENT:
The Housing Justice Project and Canada without Poverty / Canada Sans Pauvrete
"Human Rights Ignored"
October 7th, 2013 9am-12am
UBC Campus Faculty of Law
1822 East Mall
Room 334
RSVP to megan@cwp-csp.ca
In Canada almost 15% of the population is living in poverty. 200,000 people remain visibily homeless and 3.8 million don't have access to adequate food. When the United Nations tells Canada it has to take action to solve these problems, how does the Government of Canada respond?
On October 7th, join international rights experts Leilani Farha (Canada Without Poverty) and Margot Young (Housing Justice Project) in a discussion about the United Nations human rights system, Canada's international human rights commitments and obligations, and the recent Universal Periodic Review of Canada's human rights record.
_________________________________________________________________________________________
PAST EVENT:
The Housing Justice Project presents: "Building a National Strategy"
Friday, February 22, 2013
Faculty of Law, Allard Hall, University of British Columbia
Workshop Rationale and Format
Canada ranks alone among G-9 nations as a country with no national housing strategy. Yet, Canada is a country with a significant housing crisis. The numbers of homeless, of Canadians living in core housing need, and of Canadians unable to find adequate housing are staggering, given the wealth and level of development of our country. Clearly, an immediate step to addressing this crisis is to implement at all levels of government in Canada housing strategies appropriate to each jurisdiction. Cities need housing tactics; provinces must have housing stratagems; and, the federal government must implement a national housing strategy.
Efforts are underway to bring about both provincial and federal commitments to formal housing strategies. For instance, a coalition of housing advocacy groups and individuals is engaged before the Ontario Court of Justice in challenging under the Canadian Charter of Rights and Freedoms the absence of a housing strategy at both the Ontario provincial government level and the national government level. This is the case of Tanudjaja v Canada et al. There is, also, a private member bill currently before the House of Commons in Ottawa that, if passed, would commit the government to developing a national housing strategy. This bill, Bill C-400 , an Act to ensure secure, adequate, accessible and affordable housing for Canadians, has passed first reading and would require the federal government to implement a housing strategy marked by recognition of the human right to housing and requiring measurable goals and timelines.
These efforts—both legal and political—may well result in either forcing or persuading various levels of government to have a housing strategy. But, after this critical first step, the challenge becomes what each level of housing strategy should have as concrete content. Specific policy and programme content is left up to the government; success of either the legal action or the passing of Bill C-400 mandates only that governments have some measures. The challenge of thinking of what these measures should be—separate from the preliminary demands for any measures at all—is significant and complex. For example, a national housing strategy would need to include all sectors of the housing market, employ a broad range of policy levers that influence local and national programmes, and involve both long and short term solutions. Federal access to revenue allows the national government through its spending powers to have substantial impact on setting national standards of housing access and adequacy. 2
Provincial governments have key roles to play in orchestrating the building of social housing and providing renters with both adequate housing income and protections. Municipal governments set housing conditions through zoning, taxation, and maintenance powers. Thus, the range of measures possible is wide, and the need for both action and coordination strong.
It is clear, than, that advocacy for housing strategies must be paired with informed and expert discussion of the specifics of best measures. Groups concerned about housing in Canada must be ready to work with the government to ensure that, should the governments come to implement housing strategies, governments have available to them the best and most coherent thinking about desired element of governmental housing strategies. This second, substantial set of questions—what follows once housing strategies are required–is the topic of this workshop, at least as those questions might pertain to the federal government.
The workshop is focused on the prospect of a national housing strategy and thus engages with questions around what the federal government can and should do about ensuring the access of all Canadians to adequate housing. Simply, how should the federal government use the opportunity of elaboration of a national housing strategy to realize housing justice and housing rights across the country.
This 1/2 day workshop will thus be a visioning session on the contents of a national housing strategy. The first portion of the workshop will be comprised of presentations of examples of housing policy from other countries, of the limits and possibilities on housing policy due to the Canadian federal structure, and of multimedia narratives involving creative assessments of and solutions to housing issues. The second part of the workshop is a panel discussion among interdisciplinary, national and local, housing experts. This panel is followed by eight breakout groups where participants, with facilitators and recorders, will discuss models and strategies that offer strong potential for advancing housing justice in Canada. The closing of the workshop will be a presentation of the key ideas from each group. These ideas will be collected in a discussion paper publicly available after the workshop.
The participants will be from a broad range of stakeholder groups. We anticipate representatives from the private, non-profit, and public sectors, as well as strong representation of community groups and advocates for housing rights. Importantly, the plan is to bring together academics, community advocates, government planners and policy experts, landlord representatives, legal experts, and individuals with direct experience of housing issues. We anticipate this to be an exciting, dynamic, and productive mix—one that advances shared expertise, thoughtful cross-fertilization for thinking about both definition and resolution of housing issues, and catalytic efforts to engender pragmatic solutions and responses.
_________________________________________________________________________________________
PAST EVENT:
Housing Justice Dialogue #1
Responses to Films Created by Young Artists on the Housing Crisis in Metro Vancouver
Wednesday February 20, 2013
World Art Centre – 2nd Floor, SFU Woodward's, 149 Hastings Street
Screening of youth artist films on housing, followed by a panel discussion by national and local housing experts.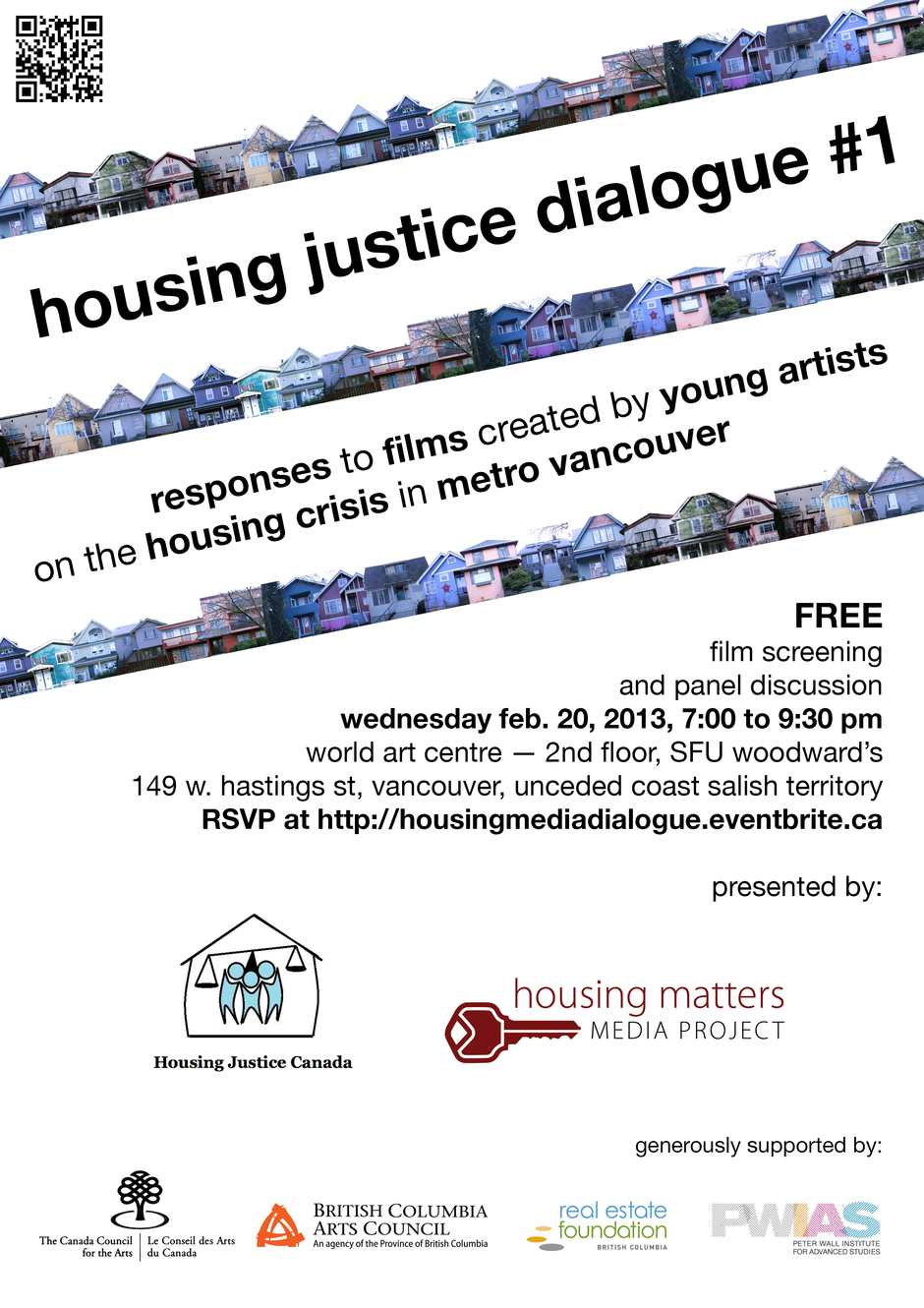 Panel Participants
Michael Shapcott, Director, Housing and Innovation, Wellesley Institute, Toronto, Ontario

Matt Hern, Co-Director, Purple Thistle Centre and Urban Theorist

Colleen Hardwick, CEO, PlaceSpeak
Background
In the fall of 2012, the Housing Matters Media Project invited ten young emerging media artists to work in a community-engaged art project. This project explored within a community context issues relevant to Vancouver's housing crisis and to possible solutions for the problems of the unavailability of affordable, adequate, and accessible housing.
The aims of the Housing Matters project were twofold. First, the project focused on the production of a series of digital narratives that would provoke and invite the public to deepen understanding of the dimensions of the housing crisis as it affects youth.  The second, connected, aim is to inform and engage young media artists on issues of housing justice. The young artists worked with senior media artists and mentors in a two-week studio residency.  This studio time was preceded by a number of discussion and consultation sessions exploring the details of Vancouver's housing crisis.  The Housing Matters project has resulted in a remarkable collection of short films on housing by these youth artists. Come and see these films, followed by  a panel of local and national housing experts discussing the issues highlighted by these films.
This project partnered with the Housing Justice Project of the University of British Columbia.  Housing Justice is a three-year research project focused on to developing greater awareness of Vancouver's housing issues and on generating collective and effective models for the provision of affordable housing.
__________________________________________________________________________________
PAST EVENT:
A Discussion with Miloon Kothari, former UN Special Rapporteur on Adequate Housing

Summary Notes
July 11th,2012. Goldcorp Centre for the Arts
SFU/Woodwards, Vancouver, B.C.
Useful Links:
Report of the Special Rapporteur on adequate housing as a component of the right to an adequate standard of living, and on the right to non-discrimination in this context, Miloon Kothari, 2007: http://www.ligi.ubc.ca/sites/liu/files/Publications/2009_Nov26_KothariRTH_Canada07.pdf
Universal Periodic Review, Report of the Working Group on the Universal Periodic Review, Canada, 2009: http://www.pch.gc.ca/pgm/pdp-hrp/inter/wrk_grp-eng.pdf
Canadian Response to recommendations, 2009: http://www.pch.gc.ca/pgm/pdp-hrp/inter/101-eng.cfm
Summary
The purpose of this informal discussion was to focus on problems in the community, and get them into a conversation with the prospect of collecting information and data. This information is useful for challenging existing policy and creating legal change. Miloon Kothari emphasized the importance of recording inadequate housing experiences.
Mr. Kothari did an excellent job of addressing issues and problems that were presented by the group. The starting point for the discussion was an introduction to Canada's national housing crisis as was addressed in the UN Special Report on Canadian Housing in 2007. A main focus of this part of the discussion was the lack of a national housing strategy in Canada. Mr. Kothari suggested that it is important to establish a national strategy that recognizes the right to housing so that when recorded instances of inadequacies are brought to the table, there is a concrete benchmark of what is considered adequate, safe and affordable housing.
Mr. Kothari discussed conclusions of the Special Report that were based on testimonies from people at the grassroots. He described a particular adverse affect on certain communities. These conclusions of the Report were addressed in the Universal Periodic Review of Canada (link above) in the following recommendation:
45: Integrate economic social and cultural rights in its poverty reduction strategies in a way that can benefit the most vulnerable groups in society, specially the Aborigines, afro-Canadians, migrants, persons with disabilities, youth, women with low incomes, and single mothers and adopt all necessary measures, including the full implementation of the United Nations Declaration on the Rights of Indigenous Peoples, to guarantee Aboriginals the full enjoyment of their rights including economic, social and cultural so that their standard of living was similar to that of the rest of the citizens in Canada (Cuba).
The Government of Canada responded to this recommendation by stating "Canada accepts in part recommendation 45 and commits to giving appropriate attention to vulnerable groups in policy development." Please see the attached documents above for the remaining recommendations that were accepted and rejected by the Government of Canada.
An international perspective was brought to the discussion referring to efforts against homelessness in New Delhi, India; Phnom Penh, Cambodia; and The Netherlands. One example was the Urban Rights Forum initiative that has pushed for rights of homeless people in the city, shifting the terminology from homeless to CityMakers.
The discussion opened up to discuss a wide variety of issues that are commonly seen in Vancouver, including gentrification, rising land prices and affordability, the West End development and renovictions. One of the most resounding conclusions of the discussion was the power of forming alliances to tackle these issues. It was acknowledged that alliances are not easy to form and agree upon; however, as very powerful tools their importance was emphasized throughout the discussion.
After a good insights on a variety of these problems the main focus was on how to address these problems. Aggregation of data and recording of inadequate housing situations were the main two points that were agreed as the next step of the project in advocating for adequate housing.
The upcoming Universal Periodic Review is a possible focus point for groups or an alliance of groups to present information and data in a way that would put pressure on the federal and provincial governments.
May 28th Housing Discussion Roundtable Conference
The Housing Justice project, held a one-day conference on May 28th where a group of people interested in issues and solutions regarding affordable housing discussed in small groups their viewpoints and experiences. The diversity of the participants led to a solid discussion of the realities of affordable housing in Vancouver and some of the issues that are seen frequently by members of the community.
The discussions included rotating groups at five tables. The topics that were discussed were:
The Preservation of Affordable Rental Housing Stock
Discrimination
People who fall outside of the Residential Tenancy Act
Affordability and Adequacy
Housing Conditions
Each of these tables has been individually summarized below, the purpose here is to draw out some of the major themes that resonated throughout the discussions.
Vulnerability
One aspect that was prevalent at every table was the vulnerability of people in precarious housing situations. Whether due to drug additions, mental health issues, abuse, seniors or family responsibilities, these people were most often discussed as the people in core housing need. This may seem intuitive, but the key point to consider is that because of these vulnerabilities, many of the government programs are inaccessible or unrealistic. The Residential Tenancy Act for example has a number of protections for tenants, however if these protections are inaccessible due to the tenant being in a vulnerable situation they become ineffective and inadequate.
Adequacy
Poor housing conditions and inadequate rental situations are major concerns for health, safety and general well-being. This is true in both non-market housing and market rentals. There seems to be a general attitude that the housing market is so competitive and affordable housing alternatives so few that people should be forced to put up with whatever they have. Further, this leads to problems of renovictions, where buildings in need of maintenance are renovated and tenants are forced out. Lack of affordable alternatives and a decreasing supply of rental housing further exacerbate these problems.
Advocacy and Education
Accessibility of advocacy services, legislative protections and government programs was another major issue brought out throughout the discussion. A common comment was that advocates are spread to thin and do not have the time or knowledge to give consistent, meaningful advocacy. Furhter, there was a repeated call for communication and coordination among groups to educate the public and provide advocacy for individuals in need.
Solutions
There seemed to be enthusiasm for a provincial government policy proposal for the upcoming Provincial election. Further, suggestions for a social media communication network among advocacy groups could enhance the support given to individuals.
Here are some images of our previous events:
'
'
'